Pay your people with confidence
Improve your pay culture with a customized plan to fit your organization's goals, needs, and unique DNA.

Facilitate communication
Enable managers to talk about pay with confidence with an equitable pay plan and transparent pay policies.

Build trust
Ease tensions around pay with a fair and consistent compensation structure throughout the organization.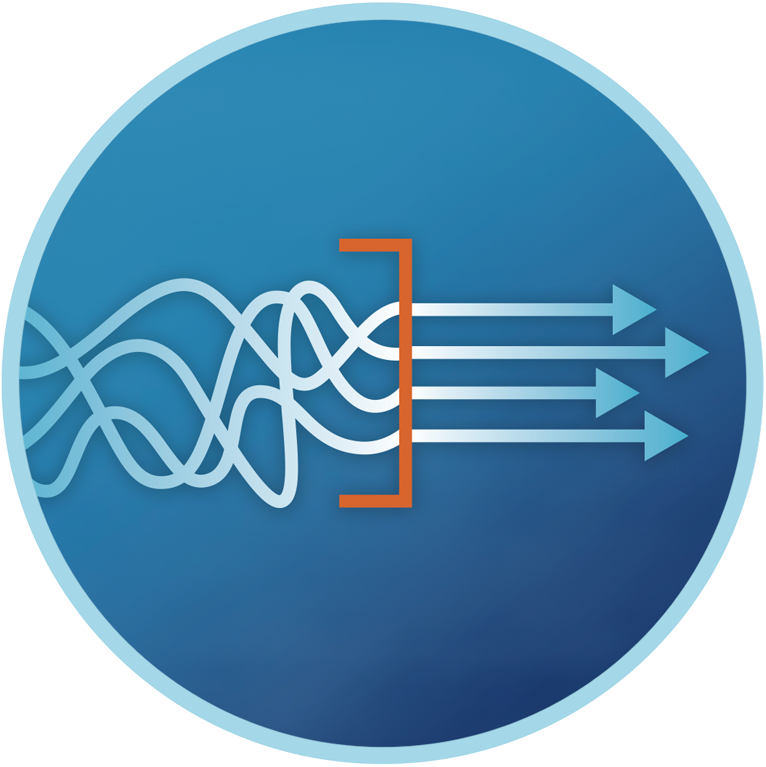 Pay can be a pain
Inconsistent pay policies can create inconsistent pay across the organization.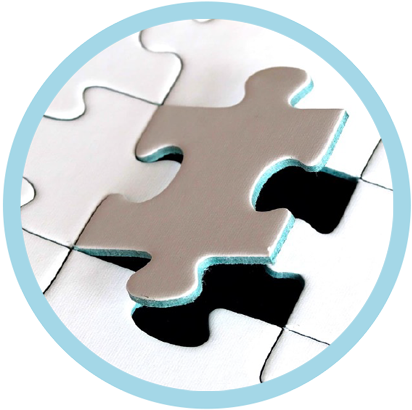 WE WILL:
---
Establish the best pay policy for your organization.
Help you build a culture of trust with consistent, equitable, and data-driven pay.
Identify a pay strategy aligned with your organization's DNA so you can attract and keep top talent.
Determine compensation for your executive team so you can retain the best possible leaders.
Set market rates for each position based on comparable responsibilities and qualifications.

If you have any of these issues, call us. We can help.
---
Struggling to compete for scare talent?
Challenged managing employee costs in a tough economy?
Concerned your not paying your people fairly?
Hard for your managers to talk about pay with employees?
Know how much to pay your employees?
Grappling to retain great talent?
Unclear policies make employees wonder if they're paid fairly.
Highly-valued employees who don't understand pay and promotion paths may leave.
Do the same concerns apply for your executive team?
Hi, I'm Catherine. I routinely talked my younger sister into playing 'business.' One of my first jobs sparked my interest in why some people were paid more than others. And so began my quest to understand the influences of pay in organizations. Later, I built Compensation Works. But I was working to much "on" versus "in" the business, so I sold it and returned to my roots – designing and implementing compensation programs for businesses like yours.
My goals? To convert leaders' confusion into clarity by improving pay strategies and policies. To help managers speak clearly about pay, at all times, to all employees. And to help employees feel valued so they'll do their best work.
I've been partnering with executives for over 20 years in all sizes of organizations and diverse industries including professional services, tech, life sciences, healthcare, financial services, manufacturing, and non-profit.
Want the same for your organization? Let's talk.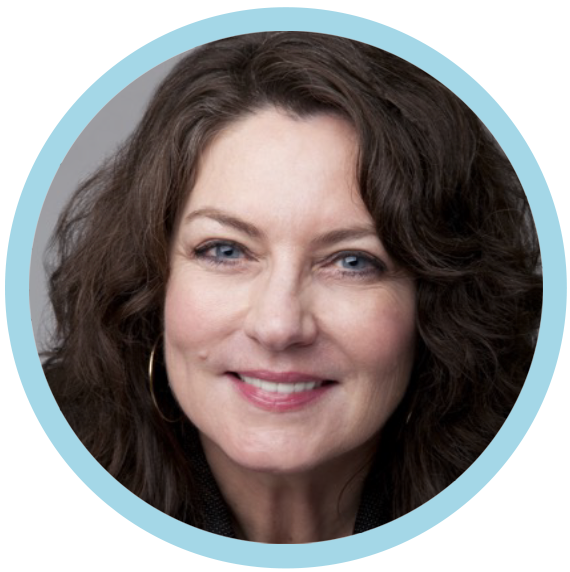 SPECIALIZING IN: PAY POLICIES – EXECUTIVE COMPENSATION – INCENTIVE PLANS – PAY EQUITY – CUSTOMIZED INDUSTRY AND REVENUE MARKET ANALYSIS – BOARD PAY GOVERNANCE – PAY STRUCTURES – POINT FACTOR SYSTEMS – PERFORMANCE LINKAGES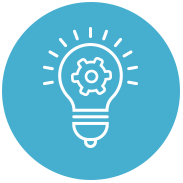 INNOVATIVE & CUSTOMIZED
---
"What I came to appreciate was how good Catherine is at pulling out what we were looking for on both sides of the compensation package."
"Catherine has extraordinary resources and judgement, works well with Boards and CEOs, and has given us a successful outcome three times."
"Catherine thoroughly assessed our needs, and she had an innate ability to really understand our culture, our players, and our politics in a way I never dreamed an outsider could."
"Catherine was very conversant on executive compensation, and she made certain it wasn't a mechanical, rubber stamped process. "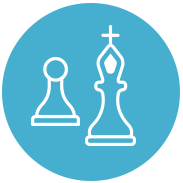 PRAGMATIC & STRATEGIC
---
"The program Catherine built keeps us in line with our philosophy, keeps us within our salary budget, and we now have an understanding of what to offer new employees, how to maintain internal equity, and how to reward star players."
"I found Catherine skilled with interpersonal relationships at senior levels and she worked effectively with a broad spectrum of personalities."
"She is willing to say whatever needs to be said, without pointing fingers, so that leaders make good decisions. A good listener and naturally curious, Catherine really looks for solutions."
"Catherine's work product and advice had a positive strategic impact on our company and has set us up for growth in the years to come."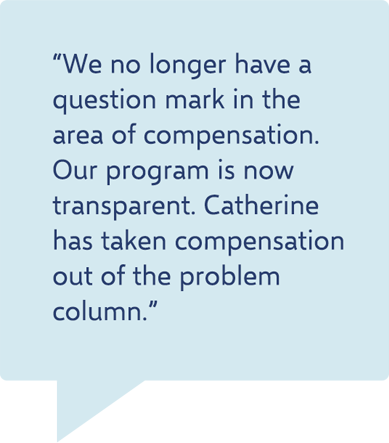 BROAD INDUSTRY KNOWLEDGE & EXPERIENCE
---
"Catherine has  more knowledge about the impact of compensation beyond numbers. She understands how compensation affects a company's culture"
"I reached out to several consultants and Catherine struck me as the most experienced. She really understood where we were and what we needed done."
"Catherine's solid understanding of industry standards, her extensive experience with many other organizations and the fact that she had taken the time to learn about the ins and outs of our organization allowed her to help us at any stage in the process."
"Catherine's strength is on the creative side. She can help a company leader imagine and think through a pay plan that ties the executive' incentives to the success of a business. She has a big toolbox and works in a consultative manner. "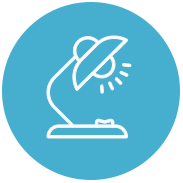 CLEAR & EFFECTIVE COMMUNICATION
---
"We hired Catherine to be the Rosetta Stone that translated our unique job descriptions to marketplace standards so we could find comparable salaries."
"The language she used in the report and in our communications was very simple and efficient. She doesn't make things sound more complicated than they are."
"Catherine peppered our meetings with leadership, knowledge and some tough questions that really made us think about what was important to our business."
"Through discussion and probing questions led by Catherine, we were better able to articulate our compensation philosophy to ourselves and to our employees."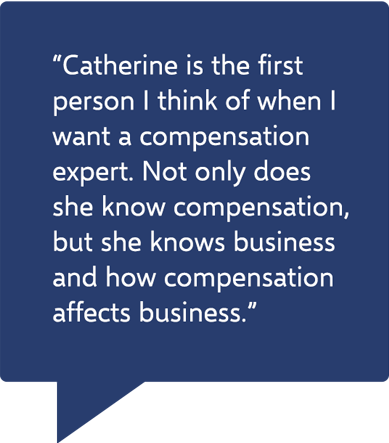 Schedule a call
Click on the button below to set up an appointment or contact us directly.

Explore the challenges
Discuss your current pain points and your ideal state.

Outline a project plan
Identify stakeholders. Review the options. Develop a proposal.

Work together
Gather and analyze information. Design a customized solution. Share and implement your strategy.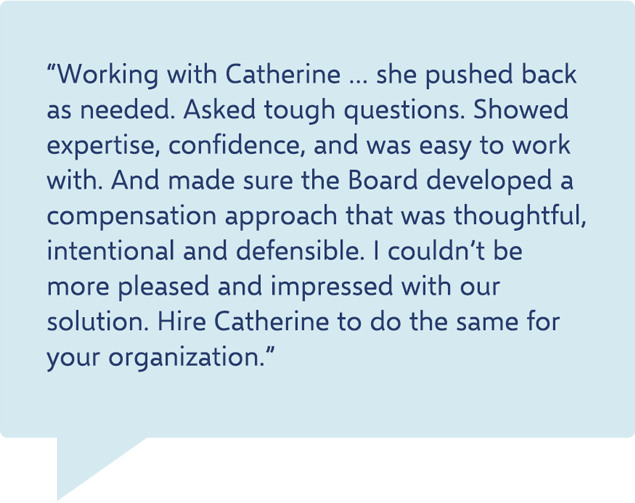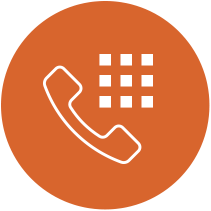 206-491-4664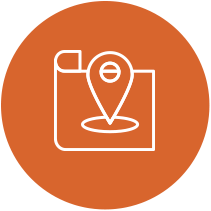 Seattle, WA